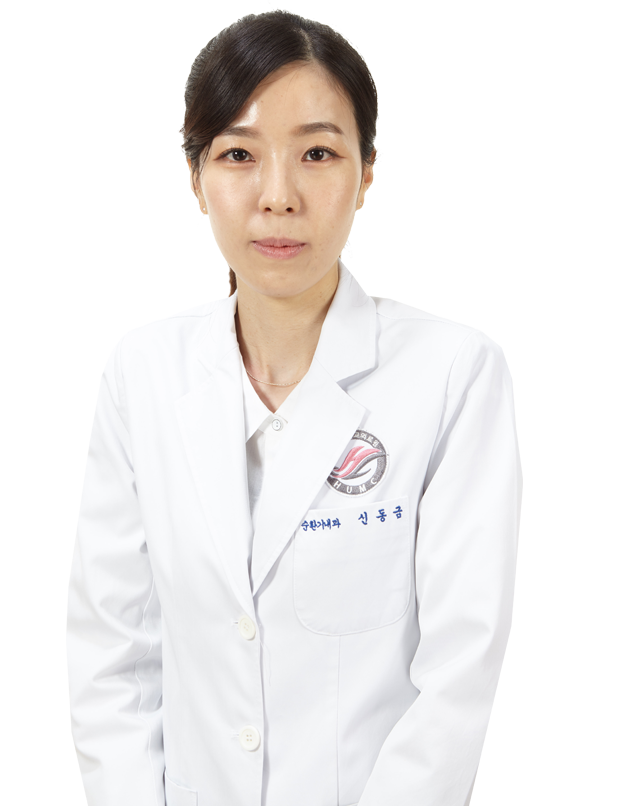 기본정보
학력
학력
2003.03 ~ 2009.02을지대학교 의학 졸업
2012.03 ~ 2014.02을지대학교 대학원 내과학 석사 졸업
경력
경력
2010.03 ~ 2014.02을지병원 내과 전공의 수료
2014.03 ~ 2015.02신촌세브란스 병원 심장내과 전임의
2015.03 ~ 2017.02신촌세브란스 병원 심장내과 임상연구조교수
2017.03 ~ 2018.02강릉아산병원 심장내과 임상강사
한림대학교강남성심병원 순환기내과 조교수
학회활동
학회활동
대한심장학회 정회원
대한부정맥학회 정회원
APHRS (아시아-태평양 부정맥학회) 정회원
수상이력
수상이력
2016European Society of Cardiology (ESC) Congress, 2016 ?Best Poster Award
논문
◎ 국내학회지 발표논문
1. Shin DG, Son JW, Park JY, Choi JW, Ryu SK. Impact of coronary artery anatomy on clinical course and prognosis in apical hypertrophic cardiomyopathy: analysis of coronary angiography and computed tomography, Korean Circ J. 2015 Jan;45(1):38-43.

2. Shin DG, Kim TH, Jeong H, Kim A, Uhm JS, Joung B, Lee MH, Hwang C, Pak HN. Prognostic Value of Inferior Shift of P wave Axis after Catheter Ablation for Longstanding Persistent Atrial Fibrillation based on Dallas Lesion Set Including Anterior Line. Int J Arrhythm. 2017;18(2):66-76

3. Lee JH, Uhm JS, Shin DG, Joung B, Pak HN, Ko YG, Hong GR, Lee MH. Clinical significance of changes in the corrected QT interval in stress-induced cardiomyopathy. Korean J Intern Med. 2016 May;31(3):507-16.

◎ 국제학회지 발표논문
1. Shin DG, Cho IJ, Shim CY, Ryu SK, Chang HJ, Hong GR, Ha JW, Chung N. Transient apical wall thickening in patients with stress cardiomyopathy: Prevalence, profile, and impact on clinical course. Int J Cardiol. 2015 Sep1;194:87-92.

2. Shin DG, Han SM, Kim DI, Rhee MY, Lee BK, Ahn YK, Cho BR, Woo JT, Hur SH, Jeong JO, Jang Y, Lee JH, Lee SH. Clinical features of familial hypercholesterolemia in Korea: Predictors of pathogenic mutations and coronary artery disease - A study supported by the Korean Society of Lipidology and Atherosclerosis. Atherosclerosis. 2015 Nov;243(1):53-8

3. Shin DG, Cho I, Hartaigh Bó, Mun HS, Lee HY, Hwang ES, Park JK, Uhm JS, Pak HN, Lee MH, Joung B. The Cardiovascular Events of Electrical Cardioversion Under Optimal Antico-agulation in Atrial Fibrillation; The Multicenter Analysis. Yonsei Med J. 2015 Nov;56(6):1552-8.

4. Shin DG, Mun HS, Lee HY, Hwang ES, Uhm JS, Pak HN, Lee MH, Joung B. The effect of transesophageal echocardiography on the incidence of thromboembolism after electrical cardioversion in atrial fibrillation: A multicenter analysis. Int J Cardiol. 2016 Jan 1;202:880-2

5. Shin DG, Kim TH, Uhm JS, Kim JY, Joung B, Lee MH, Pak HN. Early Experience of Novel Oral Anticoagulants in Catheter Ablation for Atrial Fibrillation: Efficacy and Safety Comparison to Warfarin. Yonsei Med J. 2016 Mar;57(2):342-9.

6. Shin DG, Lee HJ, Park J, Uhm JS, Pak HN, Lee MH, Kim YJ, Joung B. Pattern of late gadolinium enhancement predicts arrhythmic events in patients with non-ischemic cardiomyopathy. Int J Cardiol. 2016 Nov 1;222:9-15.

7. Uhm JS, Kim TH, Kim IC, Park YA, Shin DG, Lim YM, Yu HT, Yang PS, Pak HN, Kang SM, Lee MH, Joung B. Long-Term Prognosis of Patients with an Implantable Cardioverter-Defibrillator in Korea. Yonsei Med J. 2017 May;58(3):514-20.